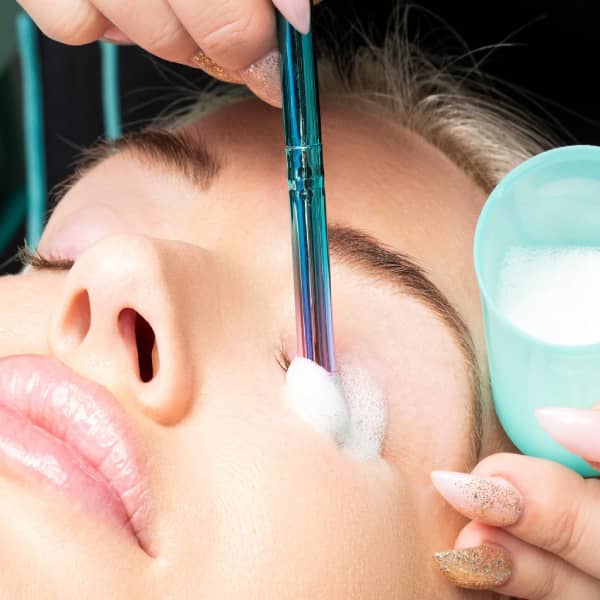 Eyelash extensions are said to last 6-8 weeks, but after 3-4 weeks, there will be 40-50% of extensions remaining. Here are the tips on how to make your eyelash extensions last longer:
Get Lash Extension Infills
Book an infill appointment to prolong the effect of your eyelash extensions. The fill-in or top-up should be done 3-4 weeks after the initial treatment, and most lash technicians require you to have at least 40-50% of the extensions. If you wait longer, the full set will need to be applied and you will be charged the full price.
Brush Your Lashes Regularly
Brushing your lashes with a clean spoolie will make them last longer, without looking tangled. This is especially important for Russian volume lashes, mega volume lashes, and hybrid lashes.
Avoid Oil-Based Products
Use only oil-free products to remove makeup. Oil will cause premature lash extensions loss since it will break down the adhesive.
Avoid Mascara
Mascara will loosen the bond between natural lashes and lash extensions. So, if you really want to use it, make sure it is waterproof, and use mascara only on classic lashes, never on volume or hybrid lashes. Apply mascara to the tips of the lashes only. No need to swipe from root to tip.
Wash Your Eyelash Extensions Regularly
It is important to clean your lash extensions every day, especially if you have Russian volume lashes or hybrid lashes. Here is how to clean your lash extensions.
As said above, cleaning eyelash extensions is important, to remove all the oils, bacteria and make your lash extension last longer. Here is how to clean eyelash extensions:
Use micellar water or other specially designed product or foam.
Use a clean brush – it is recommended to use a wider eyeshadow brush.
Dip it in the cleansing foam or micellar water and go over your lashes gently, to remove oils and dirt. Brush side to side and down and out.
Soak the brush in the water and rinse the lashes gently.
Dry them with a tissue.
If you want to make sure your lashes are completely dry (they need to be), dry them with a blow dryer (recommended for volume and hybrid lashes). Make sure to use the cold setting because the heat can damage the extensions.